Product Description
JIUTAI sewer pipe video inspection camera
The JIUTAI Industrial Pipe Inspection Camera,can check the pipe inside, tube inside, channel, plumber,to check the inside, and know what problem internal,because person can't know the condition inside, and they should find the problem so , should use this endoscope.
Pipeline inspection camera,Pipe endoscope Inspection Camera,Endoscope Camera,Android Pipe Inspection Camera,Pipeline inspection endoscope camera,Inspection endoscope camera for pipeline,snake inspection camera,inspection camera,Pipe Inspection Camera,Sewer Pipe Camera ,Drain Pipe Inspection Camera,drain inspection camera,underwater inspection camera,Industrial Robot,pipe robot crawler,Pipe Inspection Crawler Robot, Pipe Inspection Robot ,Snake Inspection Camera,video inspection camera ,Borescope,
the advantages of high quality and high reliability of JIUTAI endoscopes, enabling users of all technical levels to easily, simply and accurately perform inspections.
Experienced and quality control
Industrial Endoscope, not only overcomes the use restrictions in harsh environments, but also allows users to confidently perform tests even in narrow spaces where collisions may occur.
The improved JIUTAI JIUTAI insertion tube contains four layers that combine strong durability with excellent insertion performance. The insertion tube not only doubles the wear resistance of the previous MX series, but also has extremely strong compression resistance.
Large display detects minor defects
JIUTAI endoscope is equipped with a large 6.5-inch display, which can clearly and accurately show the smallest defects. The display uses a low-reflection picture display, so accurate and realistic images can be displayed indoors or outdoors.
Super bright LED lighting
The brightness of the endoscope LED lighting system is four times that of the conventional model's maximum brightness, providing bright illumination for deep dark detection areas. Inserting the tube end LED beam ensures full illumination of the object being detected.
Industrial Endoscope,Pipeline inspection camera,Pipe endoscope Inspection Camera,Endoscope Camera,Android Pipe Inspection Camera,Pipeline inspection endoscope camera,Inspection endoscope camera for pipeline,snake inspection camera,inspection camera,Pipe Inspection Camera,Sewer Pipe Camera ,Drain Pipe Inspection Camera,drain inspection camera,underwater inspection camera,Industrial Robot,pipe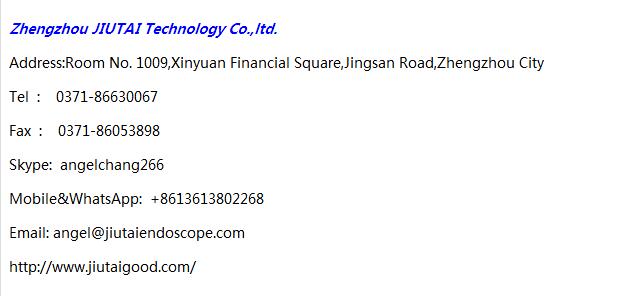 Video Pipeline Inspection ,Drain inspection camera ,Pipeline Inspection Camera Parameter :
| | | | |
| --- | --- | --- | --- |
| Camera Type | CCD | Screen Size | 10 inch |
| Camera lens Diameter | 51mm | Brightness | Adjustable |
| Laser Measurement | Support | Water-proof | IP67 |
| Rotate | 360° rotate endless,220° reversal | Storage | 8G |
P&T inspection camera,sewer inspection camera System , Drain inspection camera working condition :