Product Description
Pan Tilt Pipe Inspection Camera Robot
Explosion proof inspection camera monitor controller features:
**The controller has the dual functions of intelligent integrated camera and video recording. It does not require external video recording equipment.

It has accurate date and time marking function and can provide accurate time recording for on-site inspection. Support for replay
**With high-performance lithium battery, continuous working time 5-6 hours,no need external power.
**Integration control panel,soft touch screen, adjustable light,focus,rotary, reversal.
** The button control the lens zoomed in and out.
** Focusing function of lens can be easily operated by buttons On the host panel.
** Brightness adjustment and background auxiliary light can be operated easily on the host panel.
** 16G card. Keep the photo and video.
Video Pipeline Inspection ,PTZ inspection camera ,Oil pipeline inspection Application:
It is a patent from China government, pipe anti-explosion robot inspection camera it is have 5 5 special features, explosion proof,

waterproof, anti - tilt, anti - dust, anti - static, anti - roll. It is good for special working condition .
360-degree explosion proof inspection camera anti corrosion camera anti-plosive inspection camera robot with intelligent control monitor


Industrial inspection Robot Camera Parameter:
| | | | |
| --- | --- | --- | --- |
| Camera Type | CCD | Pixel | 3200000 |
| Direction | Automatic panoramic scanning | Wire Cable | electric |
| Explosion proof | support | Drive | 4-wheel |
| Screen Size | 10`` color LCD | Resolution | 1280*800 |
waterproof camera detection,anti-explosion camera,Petrochemical pipeline inspection
Oil pipeline inspection

Micro cradle head color lens, electrical focusing, special function, double ambient light design,electric lifting with high chassis,4-wheel,
independent drive,Center transition increases barrier ability,crawling speed ,1-25 m /min adjustabl
e.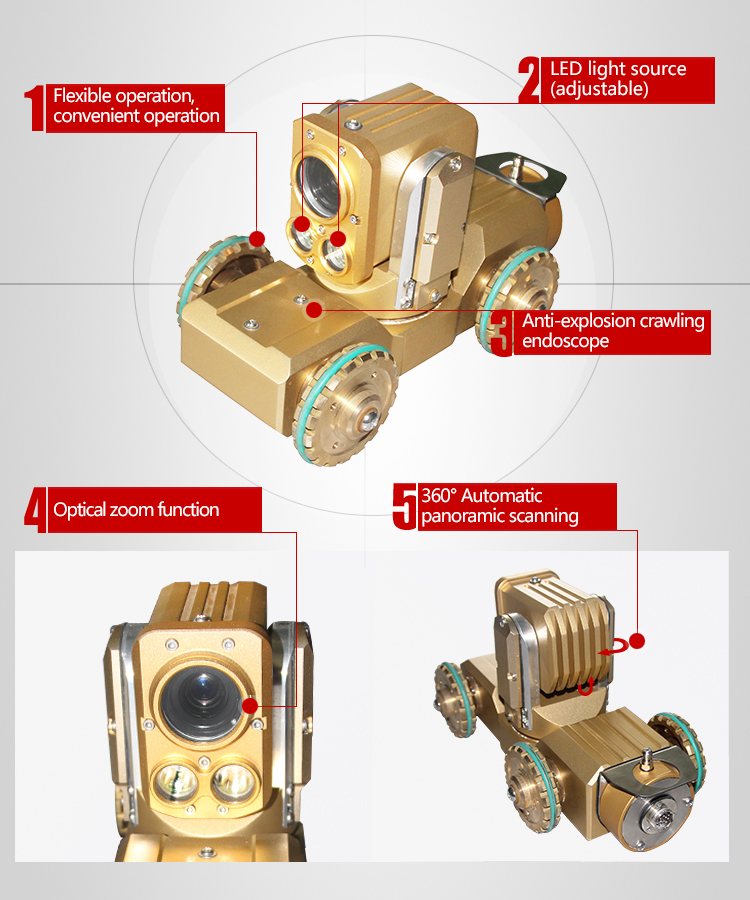 Industrial Industrial Explosive-proof Inspection Robot Camera System to inspect the tank Working case