Product Description
Industrial Pipe Inspection Robot for Video Pipe
GT260 series industrial endoscopes have independent intellectual property rights belong to JiuTai. It is set light, machinery,electricity and other high-tech in one.
Anti-explosive inspection with PZT inspection camera consists of those parts:intelligent rotating lens,intelligent controller, intelligent crawling endoscope, Kevlar cable cart etc.
The explosive-proof inspection camera screen and robot main features:
** Professional KEVLAR Cable cart with Good insulation,heat and abrasion resistance, anti-corrosion, high-strength mechanical material.

Materials with excellent performance.Detection wire length 0-100m,detection diameter is 9mm.Very fast and convenient with movable wheel.
** Integration control panel,soft touch screen, adjustable light,focus,rotary, reversal.
**The button control the lens zoomed in and out.
** Focusing function of lens can be easily operated by buttons On the host panel.
** With High performance lens,pixel 3200000, 360°axial direction rotation,180° radial rotation,automatic focusing, manual adjustment, Optical zoom lens,

360°automatic panoramic scanning.
360-degree explosion proof inspection camera anti corrosion camera anti-plosive inspection camera robot with intelligent control monitor


Industrial inspection Robot Camera Parameter:
| | | | |
| --- | --- | --- | --- |
| Camera Type | CCD | Pixel | 3200000 |
| Direction | Automatic panoramic scanning | Wire Cable | electric |
| Explosion proof | support | Drive | 4-wheel |
| Screen Size | 10`` color LCD | Resolution | 1280*800 |
waterproof camera detection,anti-explosion camera,Petrochemical pipeline inspection
Oil pipeline inspection

Micro cradle head color lens, electrical focusing, special function, double ambient light design,electric lifting with high chassis,4-wheel,
independent drive,Center transition increases barrier ability,crawling speed ,1-25 m /min adjustabl
e.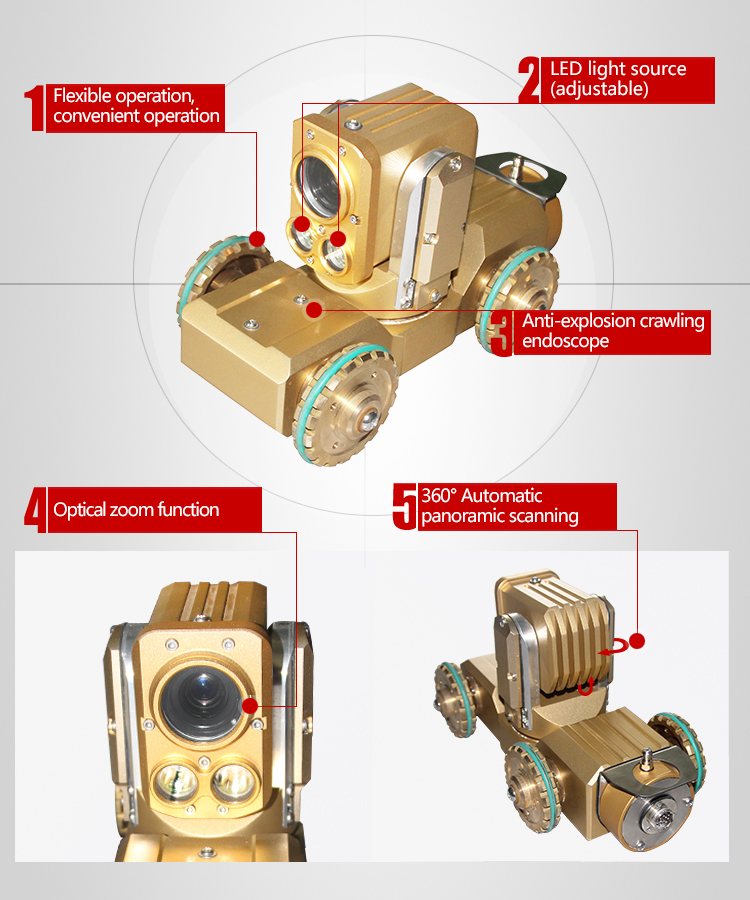 Industrial Industrial Explosive-proof Inspection Robot Camera System to inspect the tank Working case