Product Description
CCTV Pipe Inspection Robotic Crawler Camera
Petrochemical pipeline inspection,Oil pipeline inspection, Explosion proof inspection crawler Inspection camera features:
** With High performance lens,pixel 3200000, 360°axial direction rotation,180° radial rotation,automatic focusing, manual adjustment, Optical zoom lens, 360°automatic panoramic scanning.
** Automatic inspection the crawling endoscope`s working position ,convenient the worker control the crawling endoscope .
** High power LED lighting, brightness can be adjusted,image more clearer in a big space.
** Crawling endoscope Body size: length 31cm,width 17cm,height :17.5cm.
** Anti-explosion crawling endoscope,wide range of adaptation, Pressure protection device inside the cart body.
** Forward ,backward and turn are flexible and convenient.Crawling speed : 2-20m/min (adjustable)
Video inspection camera and borescope Company Information:
Zhengzhou JIUTAI Technology Co.,ltd. Main products :PTZ inspection camera
sewer inspection camera System , Drain inspection camera ,anti-explosion camera ,welding joint inspection,waterproof camera detection,Video Pipeline Inspection,borescope inspection camera,Municipal pipeline inspection,Petrochemical pipeline inspection,Oil pipeline inspection,Wind Power inspection camera
360-degree explosion proof inspection camera anti corrosion camera anti-plosive inspection camera robot with intelligent control monitor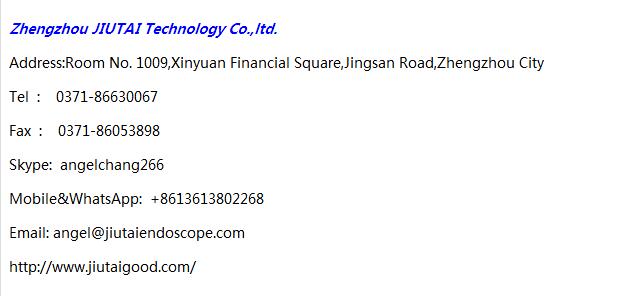 Industrial inspection Robot Camera Parameter:
| | | | |
| --- | --- | --- | --- |
| Camera Type | CCD | Pixel | 3200000 |
| Direction | Automatic panoramic scanning | Wire Cable | electric |
| Explosion proof | support | Drive | 4-wheel |
| Screen Size | 10`` color LCD | Resolution | 1280*800 |
waterproof camera detection,anti-explosion camera,Petrochemical pipeline inspection,Oil pipeline inspection

Micro cradle head color lens, electrical focusing, special function, double ambient light design,electric lifting with high chassis,4-wheel,
independent drive,Center transition increases barrier ability,crawling speed ,1-25 m /min adjustabl
e.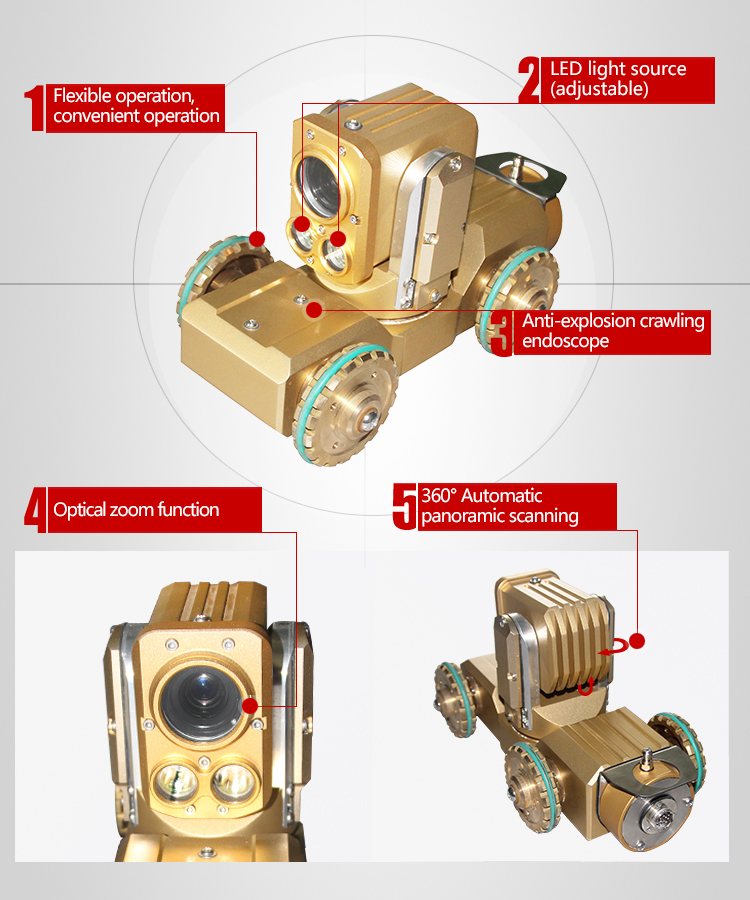 Industrial Industrial Explosive-proof Inspection Robot Camera System to inspect the tank Working case